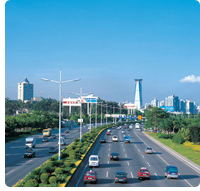 Cheung Fair Enterprises is a specialized agency of the semiconductor parts of Hong Kong enterprises, the company was founded in JUN 2001,In order to carry out domestic business, in August 2005 in the domestic investment registered the Shenzhen branch,The branch is located in the prosperous area of Shangmeilin in Shenzhen, the information is fast, convenient transportation.

The company's customer base is mainly concentrated in the industries of: switching power supply, charger, LCD TVs and LCD monitors, computer motherboards, graphics cards, electric bicycles, small appliances, power tools, lighting and so on.

Cheung Fair Enterprise Agents product line: The Japanese pine (Matsuki Group)-the MOSFET, GLOBALSEMI-IC.

Uphold the company: customer service, product quality, sales of prestige first, the work efficiency, price advantage, the first business philosophy, customers are worried about the maximum extent possible to the customers.

Solve the problem to be solved for all customers, and provide market updates, cheaper solution to the customer, all operating flexibility, Hong Kong, mainland delivery, branches can be issued by the national VAT invoices.

Entrusted to believe that your trust, we strive to implement the company's senior management philosophy, let us in on the basic platform of mutual trust, mutual aid, progress. You give us a chance, we will give you thousands of copies of surprises!